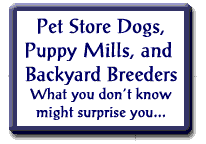 What is a Puppy Mill?


Puppy mills are commercial kennels that mass-produce dogs in squalid, overcrowded cages, without proper veterinary care, shelter from heat or cold, or adequate food and water. Substandard care and attention are given to these dogs since puppy mill owners care more about profit than the health of the dog. Cat breeding occurs under similar conditions to supply pet stores with kittens..

Stop Puppy Mills

Health and Behavior Problems



Puppy mill dogs often suffer from starvation and are forced to sit all day and sleep in their own excrement. Even though pet store puppies may look healthy at first sight, many are incubating disease at the time of sale, including the deadly Parvo virus, parasites and skin diseases. Many also have serious congenital defects like eye and hip problems. These dogs are also prone to serious behavior problems since they've been confined to cages without human interaction during their first crucial months of life..

Stop Puppy Mills

Pet Store Connection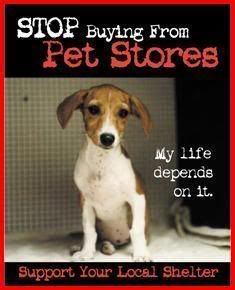 Of the roughly 150,000 dogs and cats that end up in Washington shelters each year, more than half are put to death because there aren't enough homes to go around (nearly half are puppies and kittens). Puppy mills carelessly add to the overpopulation crisis by selling over 500,000 dogs each year through America's pet stores..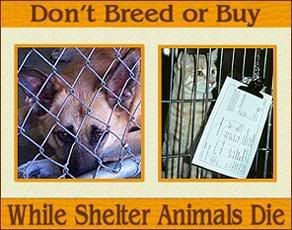 Roughly 90% of puppies in pet stores come from puppy mills. If people chose to adopt puppies and kittens rather than purchase them at pet stores, commercial breeders would have no outlet to sell their "product"..



Stop Puppy Mills

Registration Papers-No Guarantee




The American Kennel Club themselves say that they "cannot guarantee the quality or health of dogs in its registry." Well-known dog behaviorist, Brain Kilcommons has said, "Mixed-breed dogs are what nature intended of dogs, and are on the whole, healthier, often more intelligent, of more even disposition, and live longer lives than many purebred dogs"..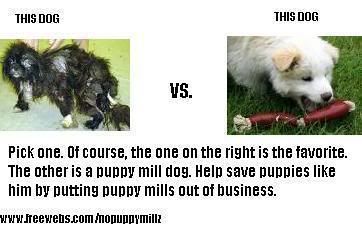 Help Stop Puppy Mills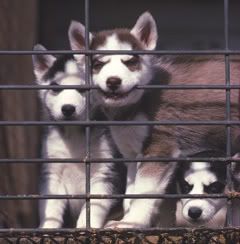 • Do not purchase animals from pet stores that do business with puppy mills and cold-hearted backyard breeders

• Adopt a rescued animal from your local animal shelters

• Discourage others from purchasing animals from pet stores which will make more money for the cruel puppy mill operation and continue to breed miserable lives for these innocent animals

• Spread awareness about the facts of puppy mills to your family, friends and community

Please help end this cycle of misery. Give these innocent animals hope that there is a life without fear or pain waiting for them.. If not you, who? If not now, when?

If you have any questions or concerns, please contact us and we will respond as soon as we are able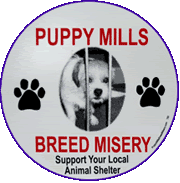 www.myspace.com/blessings_of_the_merciful