What do cats and pigs have in common?
Answer: Both are used to make LEATHER!





Leather can be made from:


(just to name a few)

*Cows
*Pigs
*Goats
*Sheep
*Alligators
*Ostriches
*Kangaroos
*Horses
*Zebra
*Bison
*Buffalo
*Elephants
*Snakes
*Dolphins
*Dogs
*Cats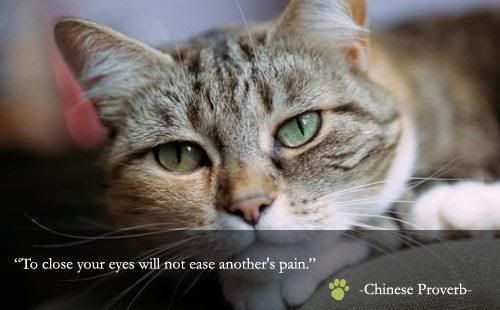 Yes, DOGS and CATS are slaughtered for their meat and skins in China (China exports their skins around the world).
*Since leather is normally not labeled, you never really know where (or whom) it came from.



Most leather comes from developing countries like India and China, where animal welfare laws are either non-existent or not enforced.


Many of the millions of cows and other animals who are killed for their skin endure the horrors of factory farming—Along with extreme crowding and deprivation, the animals must go through a series of painful procedures.


ALL THE FOLLOWING ARE DONE WITHOUT ANY PAINKILLER:

*castration
*branding
*tail-docking
*dehorning
*and even skinning the animal alive!

In India, a PETA investigation found that cows have their tails broken and chili peppers and tobacco rubbed into their eyes in order to force them to get up and walk after they collapse from exhaustion on the way to the slaughterhouse. At slaughterhouses, animals routinely have their throats slit and are skinned and dismembered while they are still conscious after improper stunning.


Most of the millions of animals slaughtered for their skin endure the horrors of factory farming before being shipped to slaughter, where many are skinned alive. Buying leather directly contributes to factory farms and slaughterhouses since skin is the most economically important byproduct of the meat-packing industry.
*Leather is also no friend of the environment since it shares all the environmental destruction of the meat industry, in addition to the toxins used in tanning

With every pair of leather shoes that you buy, you sentence an animal to a lifetime of suffering. Instead, you can choose from hundreds of styles of nonleather shoes, clothing, belts, bags, and wallets.
Fashion should be fun, not fatal! Read more about the cruelty of the leather industry.