Reposted With Thanks To: We Are All Connected



Phil



94% of Dutch feather and down industry refuse to provide information about the origin of their down and feathers — the origin is most probably horrible live feather plucking.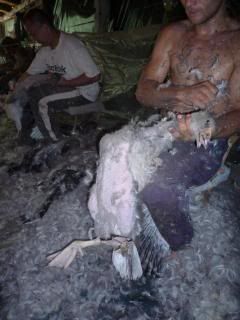 IKEA has shown the right example stopping the sale of geese down after an undercover investigation of Swedish TV and FOUR PAWS on live feather plucking displayed shocking images. The footage shows the mass live feather plucking of geese, rude handling, heavy wounds being sewn without sedation and dying birds.

FOUR PAWS recently sent out a questionnaire to 17 companies selling feather and down products in the Netherlands. 10 out of 17 companies didn't reply to our request at all, 6 companies referred to a feather and down branch organization (these organizations were not willing to give answers about the origin of the feathers either) and only 1 gave a detailed answers to our questions. The low number of companies willing to provide information on their suppliers is remarkable.

What is there to hide?
Why is the origin of feathers a secret in the Netherlands?

The two main methods of "producing" down and feathers are plucking after slaughtering and live plucking by force. If the companies get their feathers from the big slaughterhouses.... it iss easy to proove that the down and feathers are a by-product of the slaughtering and not a product of the cruelty of live plucking. Apparently most companies have good reasons to hide the origin of their products.

Even a European ban on live feather plucking doesn't keep companies from using this cruel method.

Thousands of tons of down and feathers from brutal illegal live feather plucking are produced in Hungary, Poland and China. There are enough reasons for the industry to show that their down does not have its origin in this horrible practice. But feathers are an anonymous product, nobody can tell if the down from a pillow is from live feather plucking or not. The origin is of the same importance as with eggs and meat. FOUR PAWS asks the consumers not to support an industry with "dirty secrets" and to look for animal friendly alternatives like Kapok (from palm trees) and synthetics.


FOUR PAWS investigates live feather plucking


In the EU there is a ban on live feather plucking. The biggest producers of feathers and down from live feather plucking are Poland, Hungary, and China. In 2008 FOUR PAWS filmed this cruel practice on 3 farms in Hungary. The pictures show geese in appalling conditions. In this case the birds were even tortured with 3 weeks of force feeding for foie gras after the live feather plucking.

Meat geese are feather plucked 3 – 4 times in their lives and one time after their death. The feather plucking supports the fattening process, because geese get fat quicker if they are getting feather plucked, because the birds try desperately to compensate the loss of insulation.

The picking is done by so called 'feather brigades', groups of up to 20 persons travelling around and working on a contract basis. They are paid per plucked animal and so they try to do as many animals in short time as possible.

We were informed of the following shocking facts:


They hurt the animals during the process and have to sew the wounds; this is done without any sedation.


Birds panic so much that they strangle themselves as they get caught up in fences


They do competitions on who is the fastest feather plucker.


They don't follow the laws, because it would not work and the cruelty is backed up by the government.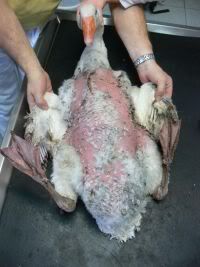 FOUR PAWS wants to end live feather plucking.
This year the FOUR PAWS campaign negotiations resulted in calling a halt to the live plucking of 2 million geese in Poland and Hungary.
The problem can only be solved with the help of consumers.



Don't buy products with geese down.


"Made in Netherlands or Germany" doesn't mean that there is no live feather plucking involved, feathers are regularly relabeled and a case of live feather plucking was exposed by FOUR PAWS Germany.


Don't buy goose meat from live plucked birds.


Write to companies and ask them to provide answers about the origin of down and feathers, speak with friends and relatives about this problem.


Don't believe in fairy tales about "TÜV Siegels" or controlled production from "welfare plucking".

You can also sign the Four Paws's petition Plucking of LIVE Geese in Europe

HERE

Source